Svetlana Baklanova Artist Bio

Born in St. Petersburg, Russia, Svetlana Baklanova grew up in the design studio of her grandmother, a known couturier in the city, who specialized in wool suits, coats, and fur accessories. At the age of six, Svetlana started drawing portraits and sewing her first garments.
Svetlana started her career in 1986 with her own business, creating unique leather, suede, and fur garments for upscale clientele. In 1989, she graduated from the College of Fashion in St. Petersburg, Russia, with a degree in High Fashion Design and Dressmaking.

During her studies, Svetlana was recognized as a talented designer and the first in the school's history who was invited upon graduation to work in the most prestigious Couture House in St. Petersburg. Driven by fashion interests and looking for new inspirations, Svetlana went to Italy in 1991 where she worked with private clientele, creating new fashion designs in Milan and oil paintings in Rome.

In 1993, while continuing the search for her individual style, Svetlana established herself as an interior decorator. During this period, she completed several successful projects in Finland, which included her own paintings.

In 1994, Svetlana moved to America where she gained more experience in fashion, working with three professional fashion designers and completing her second fashion degree at Houston Community College.

Between 1997 and 2000, Svetlana promoted her own label, SB, at various fashion shows in Dallas, TX and St. Petersburg, Russia, some of which received radio and TV coverage.

In 2002, while experimenting with the different artistic projects, Svetlana has created her first painting that embodied her inner vision of the world, designer skills, and computer graphics experience. Svetlana has succeeded in finding her true style, by using ordinary geometrical squares to form dynamic images. It was not until her paintings were presented to The Russian State Museum specialists that her art could be categorized, and therefore receive the proper market position. Dr. Mikhail German, Head of Research at the State Russian Museum and member of the International Association of Art Critics (AICA), gave the new style a name. He called it Pixelpointillism. (pixel pointillism)

Svetlana's artwork creates a calm, positive mindset, yet they are bright, passionate, dynamic, and full of energy. They reside in the area between physical and virtual worlds, where the objects can be seen in the form of pixels, or units, which emphasizes the concepts of coexistence of interrelated and independent particles. The scientific community has embraced Svetlana's work and compared it to major discoveries of physics in the 20th century.

"You discovered the fractals in the art, which are known in physics and play important role in scaling." Dr. Anatoli Borissov, Doctor of Physical and Mathematical Sciences.

Svetlana's work has been regularly exhibited in the RedSky Gallery in Charlotte, one of the city's foremost fine-art galleries. Svetlana also exhibited and sold her art at Artexpo New York in both 2005 and 2006, and had gallery shows in various cities.

In 2006, Svetlana was featured as an emerging artist by Art Business News Magazine. Later the same year, Svetlana was selected by Hewlett-Packard to represent its advanced printmaking technologies at DECOR Expo in Atlanta.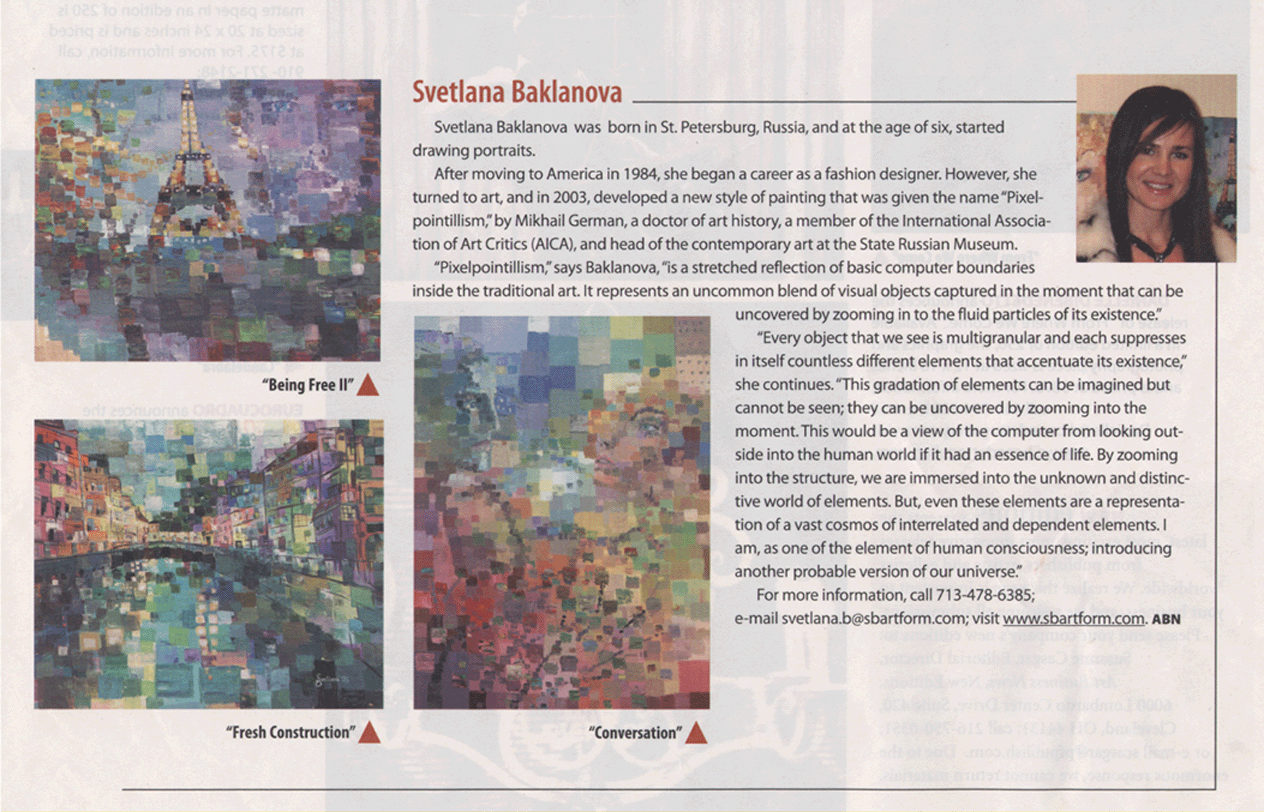 "Artists from the former Soviet Union are experiencing unprecedented success with art publishers, galleries, auction houses, and even museums. According to industry experts, dealers who are serious about offering high-quality art to collectors should embrace the new Russian art movement."
Klint Callaghan, "Art Business News" contributing editor, July 2005
​