Practice HORA Representative
Practice HORA Representative and Leading Specialist
Meet the leading specialist of the Evolutionary-Meditative Practice HORA in the U.S.A.― Svetlana Baklanova
Svetlana was born in St. Petersburg, Russia. She has been living in the U.S. for the past 15 years. In 2005 she was selected to participate in the HORA leadership training. Every 3 to 4 months, Svetlana travels back to Ukraine and Russia for continuous training. The first HORA class in the U.S. took place in Charlotte, North Carolina in July of 2006. Svetlana often travels to various U.S. cities to conduct intensive workshops.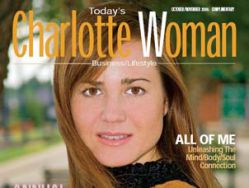 In the Media: Svetlana Baklanova, Leading Specialist of Evolutionary-Meditative Practice HORA the cover of Today's Charlotte Woman Magazine. Download the full article from Today's Charlotte Woman
For workshop intensives, regular classes, private classes, and information about HORA in the U.S.A., please contact Svetlana. Current classes: Chicago, IL, Wheeling, IL and Charlotte, NC.

More than 25 locations around the world
Please visit our www.horausa.com for information on official Practice HORA centers and HORA representatives throughout the world. These centers and representatives are approved and under constant supervision by Master HORA

®
About Evolutionary-Meditative Practice HORA

®
It is a method that allows one to awaken and constantly support youthfulness. Youth is lightness, feeling alive, vitality, and a clear mind. This will increase and extend productivity.
This practice correctly organizes the constant and increasing pressures on the skeletal system, rejuvenating and training it within the parameters of an individual's ideal posture.
This training does not use the mind but is instinctual
It is also a powerful breathing practice
It strengthens the cardiovascular system by engaging all the muscles of the body into working correctly thus taking the load off the heart
All of this is accompanied by the built-in active calmness technique. Thus two incompatible terms are combined: CALMNESS and ACTION.
Practice HORA presents a unique natural psycho-physical training exercise system when mind and body are naturally as one. Through this practice YOU CAN ACHIEVE CORRECT CALMNESS THAT CAN NOT BE DESTROYED BY STRESS.

Our revitalization program brings back the executives, active individualts and owners to business life re-energized, revitalized, clear minded and balanced. Guaranteed! This is the most effective, optimized, up-to-date method for individuals who value their time.

You may read testimonials from active individuals and business owners at our site http://www.horausa.com/
Practice HORA and Athletes
Emphasis on gaining super endurance that ensures success in sports.Professional athletes who practiced HORA have achieved the following:
Reached and retained maximum peak performance and endurance before a game or a performance
Overcame physical discomfort of all types of illnesses
Relieved spinal/back pain and strengthened muscles supporting the spine
Improved concentration, focus, and attention span
Attained total readiness stage in calm and centered mind-set
Expanded cardiovascular ability
Increased flexibility and power of the body